Some of our Regular Events are:
1. Partners Meet
2. Crusades
3. Rural Outreach Programmes
4. Slum Outreach Programmes
5. Open Air Meetings
6. Medical Camps
7. Awareness Meet
8. Christmas Events
9. Sports Events
10. Youth Programmes
11. Rehablitation Events
12. Children Events
13. Events for Women
14. Prayer Chain
15. Carols
Partner Meet:
As inspired by the Holy Spirit, we gathered for a time of Praise and Worship. Apart from our regular partners, many other friends and well wishers responding to our invitation was really encouraging. The Directors gave their reports and a few IVCs also shared their field experiences with testimonies. Video clippings were shown in between. The singing of the IVCM.-Theme song by all IVCs appealed to all. Finally the meeting ended with the concluding remark by the patron, Mrs.Maisie Mehta. challenging many to become India Village Crusaders through their prayers, resources and also by getting involved in the field work.
---
BIBLE DISTRIBUTION
PRAYING AGAINST RELAPSE
The people who have come out of alcohol need our concern and prayers which will help them not to slip into relapse.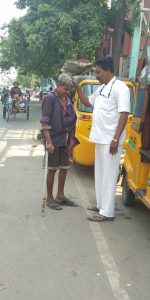 ---
THE HEART OF CHRISTMAS
Christmas was celebrated in all our mission fields. Mission is central in the Christmas story. God's heart of mission for the whole world is revealed in Bethlehem. At every place, a meaningful celebration was done saying that Christmas is a God's Programme of  love through His son Jesus to bring fallen man to Himself.
AT HEADQUARTERS
---
AT DORCAS TAILORING INSTITUTE
---